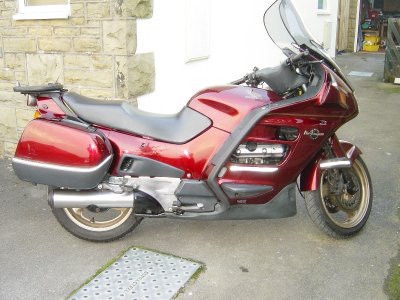 My ST1100AY was sold in March 2009. This part of the site was designed to provide potential customers with some detailed information about the bike. I have kept it more or less intact as a record. After its sale, the new owner installed a new alternator, and shortly afterwards it was stolen and dumped. Damage seemed to be largely cosmetic and the bike was restored to original condition by an ex-police rider. I saw the photos. It was pretty impressive.
2000 ST1100 ABS-TCS-CBS (W Reg)
New exhaust system
New rear brake disc
New steering head bearings
New cam belt
Final drive housing re-fit
New wheel bearings (rear)
Swinging Arm serviced every 2 yrs
New rear suspension bush & bolts.
Recent tyres (BT020)
Recent cush rubbers
See "Accessories" for details of extras that come with this bike !
Full, detailed service record. MOT & Tax until Sept 09
---
This is an excellent example of this classic tourer. The bike that was for sale is the ABS-TCS-CBS version with coupled brakes and traction control. Easily recognised by the shroud between the forks and mudguard. Dazzled in this photo by the reflective stripe which I have added to improve my visibility. Very well maintained with a detailed service history which includes the kinds of things that dealers would never touch as part of regular servicing. I bought the bike in Sept 2003 with 19,300 miles on the clock, having previously owned a non-ABS version for 4 years. The bike is W reg (2000), has done 70,100 miles and has been my pride and joy for many touring holidays.
I decided to buy a new ST1300, and didn't want to part with the 1100. I kept it and did all of the long mileage servicing that these bikes require. But I have ridden it for only 1500 miles this year. Just regular short runs to keep it in good shape. It has recently had:- new tyres, full exhaust system, steering head bearings, cam shaft belt, rear brake disc, final drive overhaul, cush rubbers, rear suspension bolts and bushes. Wheel bearings recently replaced. Battery replaced.
70,100 is normally a high milage for a motorbike - but not for a Pan European. They are reliable and keep running well into their 100 thousand miles. They need to be well maintained, and people will sell at around 60K plus miles because of the work that needs to be done at this mileage to keep them in good shape. Click the button on the left - 'To Check For'. It tells you what to look for and shows that for my bike, all of the work that needs doing, has been done already. The engine sounds as smooth as ever. There's a video/sound recording on the 'Engine' button.
When I sold the bike, it had had most of the major work required at this mileage already carried out. Browse around the 'For Sale' part of my website. Look at other Pans. You may find many similar bikes, but check out the 'things to watch for' - very few other Pans will have had these attended to.